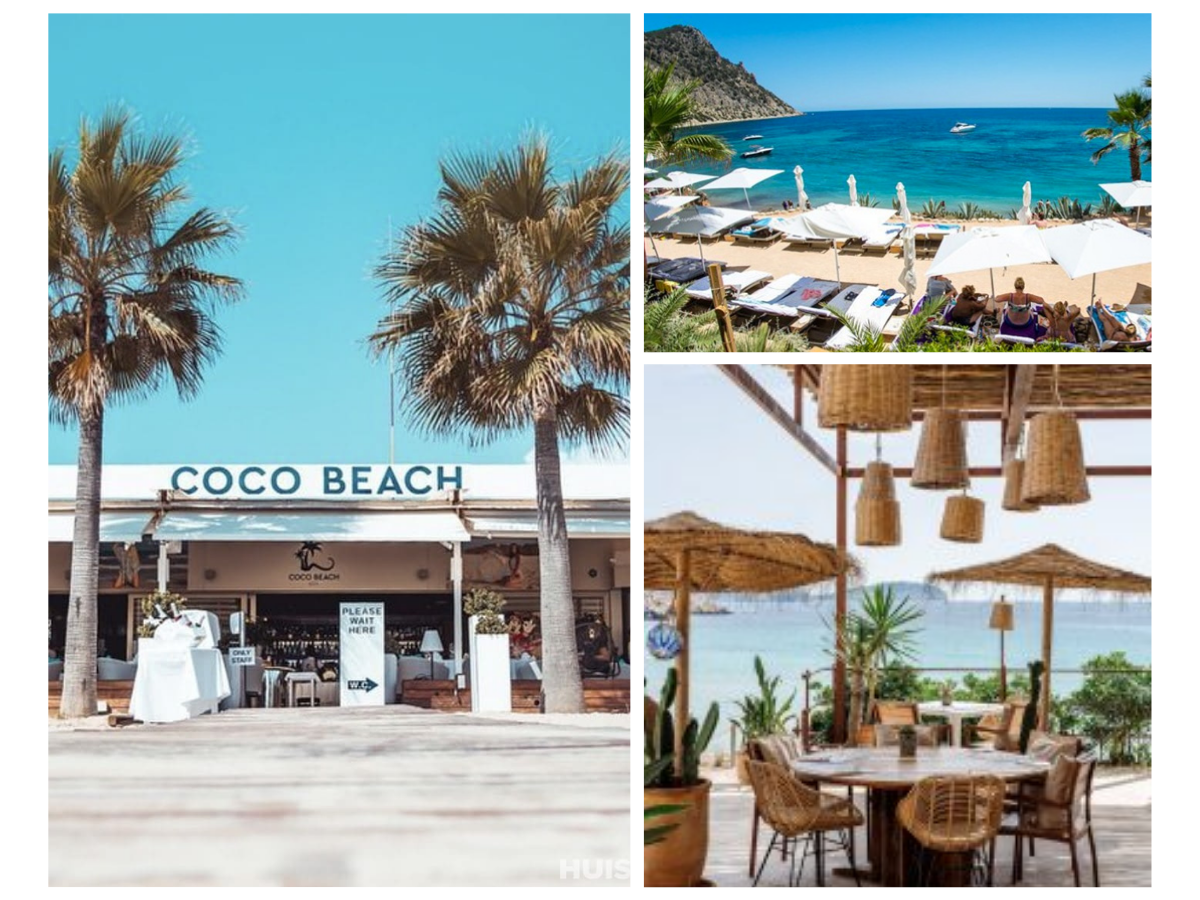 Datum: 21-03-2023
Beachclubs Opening Dates Ibiza 2023
Ready for an unforgettable Ibiza summer in 2023? We are! Ibiza is slowly coming out of its winter hibernation and we are very much looking forward to the best weeks of the year, the opening of the beach clubs and with that the official "opening" of the island! From authentic spots where you eat a fish among the locals on plastic chairs to sleek trendy spots where you party among the jet set. The doors of beach clubs have never before opened as early as this year, so we are listing the opening dates of your favorites:
1. ATZARO BEACH CLUB | 24th MARCH 2023
Atzaro beach is located on the beach of Cala Nova. It is located near Fish & Tonic. From here you have a view of the private island of Tago Mago. The setting is very Mediterranean, with white and blue and fishing boats. The terrace outside is very large and partially covered. For the youngest there is also a play area and in season there is often LIVE music on different days. The kitchen is also Mediterranean with many fish dishes. While the food is of great quality, it's quite pricey. Cocktails are priced between €12 and €16. If you spend over €70 euros, the sun beds will be complimentary. This restaurant is very popular among families.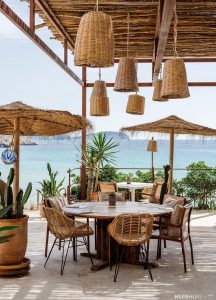 2. CALA BASSA BEACH CLUB – CBBC | 30TH MARCH 2023
Cala Bassa Beach Club is a collection of 4 restaurants on Cala Bassa beach. It covers almost the entire beach! There are several seating areas with varying prices for the sun beds. It has a sushi tent, a French gourmet "restaurant," and a "snack corner" where you can get a nice burger or pizza.
The Cbbc snack corner is for those in the mood for a sandwich, pizza burgers or hot dogs. It is the farthest part of the beach club. Here you have a terrace under the trees and a view of the bay. You can also find another boutique where you can buy some trendy Ibiza clothing and accessories. About halfway down the beach and then toward the dunes you will find the massage area. A large round open area with beds in a circle.
Click here for Villas near Cala Bassa Beach Club

3. COCO BEACH | 1st APRIL 2023
Coco Beach is the southernmost beach club on Playa den Bossa next to Nassau Beach. You could characterize it as a true Ibiza beach club. Imagine big white beds, champagne, valet parking and a lot of good-looking people. DJs often play there during the day. The restaurant here is very good with an extensive menu. In high season there are regular parties here with different artists and dancers. A wonderful place to tan during the day and enjoy dinner in the evening.
Click here for villas close to Coco Beach

4. CHIRINGUITO GRACIONETA | 1ST APRIL 2023
On the beach of Gracioneta you will find "Chiringuito Gracioneta. It takes some time to find it but is really worth visiting. You get here by passing the traffic circle at Sa Capella to the west towards Hotel Stella Maris. Then you take the first left and then the third right. You will be at the back of the restaurant where you enter the beach and restaurant.
Tucked away between San Antonio and Cala Salada lies the small beach of Cala Gracioneta. As it's name reveals it is the little sister of Cala Gracio Beach. The beach is only accessible by restaurant "Chiringuito". A delightful place with laid-back music and a good "menu del dia" for an honest price. There are two doors at the back, one leading up to the beach and one to the restaurant. The sand at Cala Gracioneta is very fine and clean. Sunbeds are in abundance and the water is clear. There are some terraces to enjoy a drink or two. On both sided of the beach are stone walls. A great little spot! Some what further you will find the popular beach of Cala Salada and the rugged Punta Galera.

5. COTTON BEACH CLUB | 1ST APRIL 2023
Cotton Beach Club is located on the beautiful beach Cala Tarida. This luxurious beach club features chic furniture, stylish beds, a private sandy beach and beautiful sea views. In addition, Cotton Beach Club is very suitable for weddings or other celebrations and parties.
The beautiful restaurant offers lunch and dinner a la carte with a diverse menu. Be aware that the menu may be pricey. Cotton Beach Club is suitable for a perfect day at the beach, after which you can use dressing rooms and private showers. Afterwards, enjoy the beautiful sunset over a delicious dinner and wine. Unfortunately, only not all the staff is as friendly so it could be better.
Villas close to Cotton Beach Club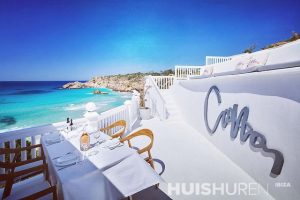 6. NASSAU BEACH CLUB | 1ST APRIL 2023
Nassau Beach Club is a trendy spot on the beach of Playa den Bossa. It is the second most southern beachclub on Playa den Bossa next to Coco Beach. In generally you are not bothered here by the revelers going to the Bora Bora club. It is basically a posh restaurant (teppanyaki) and a club together. There are several parties here during the season. The cocktails list is exquisite. Perfect spot for lying on the beach on one the great beach beds.
Villas close to Nassau Beach Club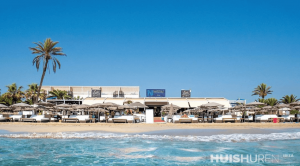 7. AMANTE BEACH CLUB | 22th APRIL 2023
Amante is a very intimate and stylish beach club at Sol d'en Serra, a little further in Cala Llonga. It lies somewhat above the beach, which means that you have a magnificent view of the bay. The dining area is on top, the terrace below has a cocktail bar, and a lower plateau contains about 25 sun beds. Downstairs is a private beach for the guests. This beach may not be of the best quality, but is only needed to walk to the water from your sun bed for a quick dip. The cuisine is Mediterranean and uses fresh products from the island. Early arrival or a reservation is recommended. We definitely recommend a visit this season!
Villas close to Amante Beach Club